Purple, Rain.
Not long after the announcement from the Vatican, I had to go outside to run an errand. It was just pouring rain and every church bell in my part of the city was tolling. It seemed to me that everyone had on a black coat and carried a black umbrella. I exchanged knowing, sympathetic looks with strangers on the street.
It felt like the end of the world.
I'm not religious. If I
were
religious, Catholicism would definitely not be my religion of choice. But despite my very liberal views and heathenism (hedonism?), I felt oddly moved by the man's death. Sure, I cracked jokes like everyone else ("Haha, gotcha! April Fool's, everybody! I've got 6 months left in me yet!") but when he died, the significance of the event was difficult to dismiss.
In a way, it was a lot like Terry Schiavo (I know, I
know
). I spent days thinking, "Just fucking die, already!" but when she died, it was like, "Oh. Okay. So...now what?"
There was a rumour circulating that the white cross on Mount Royal turns purple when a pope dies. Some believed this to be fact. Others dismissed it as an urban myth, saying it started as a joke in a McGill frosh handbook.
It was so foggy last night, I could barely see the mountain, let alone the cross. But a few brave souls trekked up the mountain to discover this: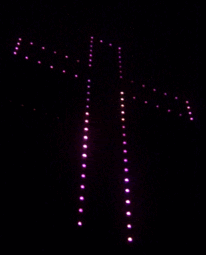 I hope it's clearer out tonight. I've heard that the cross will remain purple until the new pope is chosen.
Oh, and speaking of
purple and rain...
(Now playing: "The Town Halo", A.C. Newman)