I'm With The Band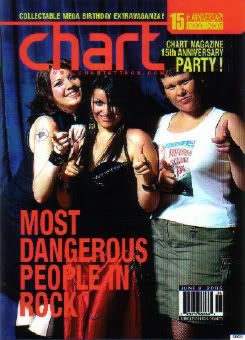 Objects in photo are hotter than they appear.
(L-R: Chart's Angels
Caitlin Hotchkiss
,
Chrissy Estima
, and your ever-faithful blogger. In 3000 degree heat, no less.)
Last night's NxNE kick-off/Chart anniversary party felt a lot like highschool (had highschool been held in a church with free food and alcohol). In the bathroom, girls tittered about boys they wanted to make out with. ("He's so hot!" "I KNOW!") Boys gave girls the
look
with all of the pluck reserved for teenagers who don't yet know that shameless leering is wrong. ("Hey there. What do
YOU
do?") Excessive hugging. Catty glares. Schmoozing. Schmooches. Boys danced with groups of boys and girls danced with groups of girls. Longing glances were cast.
Yes, people at industry parties apparently have the collective mentality of 17-year-olds. And I was no exception. Especially since I was in full-on hey-let's-look-for-Canadian-celebrities mode! I was certainly not disappointed to that end.
B-list Canadian (mostly) celebs spotted:
Moe Berg
Zach Werner (surrounded by a bevy of jailbait at all times)

Theresa Sokyrka
Members of Moist, The Meligrove Band, The Salingers, The Salteens, The Exchanges, White Cowbell Oklahoma, The Sundogs (hello Irish accent!) and many more
Various music scribes, but that's more exciting to me than to you
Happy birthday,
Chart
! Thanks for the lootbag! Sign my yearbook later, k?
(Now playing: "Nothin'", The Ugly Ducklings)