Ticket to Ride
A couple of days ago, I spent my last $100 in the world on something resembling this: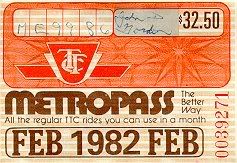 A TTC metropass means unlimited - yes -
unlimited
mobility! No more paper transfers! No more fumbling for change! No more meticulous planning of my trips downtown in order to cut down on token usage!
Oh bliss! Oh joy unrivalled!
This is going to be the greatest month of my life.
(Now playing: "We Like Accidents!", The Guest Bedroom)