Skirting The Issue
I just bought this rad skirt.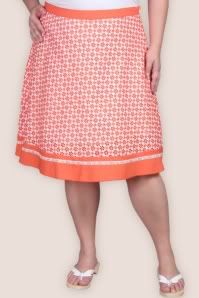 Skirt in photo may be radder than it appears.
The problem is, I have no idea what to wear it with! Aesthetics are sort of beyond me, so I'm not very good at dressing myself. A white peasant top is the obvious answer to me, but I'm thinking that's a little too Oktoberfest. Any ideas? (Note: in person, it's all textured and has a hip I-spent-five-hours-sifting-through-utter-shit-at-Value-Village-to-find-this-puppy-
but-it-was-so-worth-it vibe happening, so anything that might accentuate that would be ideal). Email me or add a comment. Quickly, now! I am rapidly running out of skirt days.
It's come to my attention that, not only do
Carl Wilson
and
Aaron Wherry
link to my blog, they also visit it sometimes. So awesome! Boys, if you're reading this, you do damn good work. (Nonetheless, I look forward to stealing your jobs someday.)
Another busy weekend is approaching. Highlights include (but are not limited to): libations at Betty's, the CNE, being part of the judging panel for this year's crop of TTC buskers and...
JOEL
!
(Now playing: "Playgirl", Ladytron)