The Blood Of Fats Domino Is Not On My Head
Fats Domino is alive and well.
This is a huge relief to me.
I guess I should explain:
I'm working on a "Year In Review" issue at work. Basically I'm writing up a timeline of important music-related events in 2005. Neil Young has surgery for an aneurysm, Michael Jackson gets acquitted, Madonna falls off a horse - that sort of thing.
I have a quota to fill and was running out of important events. So I started thinking (and maybe even secretly hoping) that a prominent musician should kick it in the coming days in order to make my job a little easier.
Horrible, I know.
The next day I read that Fats Domino is missing and feared dead in the aftermath of Hurricane Katrina. I tell a co-worker that I think I maybe had a hand in killing Fats Domino. We laugh about it, but I am just
appalled
at myself.
As it turns out, Fats is okay! And he's looking pretty rad, if I do say so.
Phew!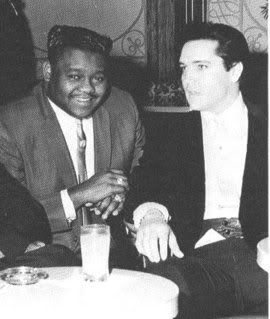 Fats Domino and Elvis Presley: hey, they're

both

alive!
So that's one happy ending, at least.
(Now playing: "Lady Madonna", Fats Domino)