Brought 'Em On Out
Mom? Dad? When I grow up, I want to be...a DJ.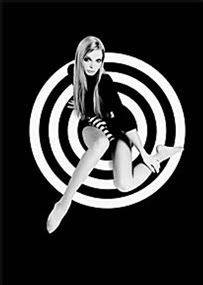 Before last night, I'd never DJed at a bar with an actual dancefloor. It was a great experience and sooooo much fun! Many thanks to
Gedge & Bond
for inviting me to guest DJ
Bring 'Em On In
.Thanks also to everyone who came out and who helped make it a particularly awesome night.
Here's a partial and only vaguely chronological setlist:
My Time - The Golden Dawn
Putty - Jenny & The Statesiders
Tu M'Oublies - Planetes
Picture Book - The Kinks
Un Poison Violent, C'est Ca L'Amour - Serge Gainsbourg
Epistle To Dippy - Donovan
Say I Am - Tommy James & The Shondells
Evening Gown - The Left Banke
Take Care - The Troys
Mini Minnie - The Young Ones
It's Your Mind - The Paupers
Last Nite - The New Colony Six
Wild Tiger Woman - The Move
Outside Chance - The Turtles
P'tites P'tites P'tites - Gauloises
Rouge Rouge - Christine Laume
Sur Une Nappe De Restaurant - Jacques Dutronc
Psycho - The Sonics
She Ain't No Use To Me - The Ugly Ducklings
Last Time - The Rolling Stones
Your Face Is In My Mind - The 14th Wray/The Orange Alabaster Mushroom (although this was my only non-'60s cheat of the night, it was met with rabid enthusiasm)
Girl - Les Lutins
Hey Sah-Lo-Ney - The Action
Merci, Herr Marquis - France Gall
Forget All About It - The Nazz
If you don't know many or any of these songs, please get your download on. (I will also happily swap mix CDs with any and all persons.)
(Now playing: "On M'a Toujours Dit", Annie Philippe...taken from "Girls in the Garage Vol. 10" - thanks, Miss Mimi!)