Laugh Laugh
This is my friend Andrew Johnston.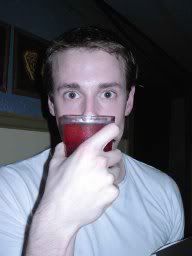 Try to remember his partially-obscured face.
Last night, Daniel and I went to Yuk Yuk's to support Andrew in the semi-finals of a comedy search thing. He went up against 15 of the best (and...um...less best) amateur stand-up comics in the city. And do you know what that Andrew did? He won, that's what he did!
The finals will be airing on the Comedy Network sometime in February. The winner will receive a prize of $25 000.
Andrew basically rules. We love him.
In other news, a friend asked me if I'd consider DJing his friend's wedding. Flattered though I was, I had to decline. Not only do I not have any of my own equipment, it would probably be a huge fucking disaster:
Me: (Playing obscure Japanese garage) This wedding RULES!
Sobbing bride: Why won't she play "Nights in White Satin"?
Livid groom: (Pounding motion with fists)
Me: (Reluctantly segue into "The Chicken Dance". Head to open bar)
(Now Playing: "Sometime At Night", The Chesterfield Kings)