A Dilly of a Pickle
I needed to post to get rid of that insanely sexy photo of Morrissey. It hurts me to look at the man. I whimper like a puppy every time.
In its stead, I will post the colourful logo of a cleverly-named theme party I am fortunate enough to be attending this evening: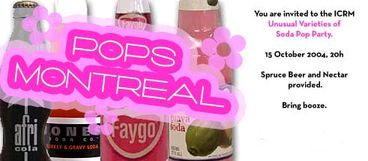 I will be bringing mango, cran-apple and elderflower pop. I am looking forward to seeing how all of the aforementioned will taste when mixed with peach schnapps.
In other news, I'm considering applying for an editorial position at a magazine in Toronto. It's basically my dream job and I believe I'm qualified. The only problem is this: it starts before Christmas. If I actually got the job, it would mean:
1) I would not finish my journalism program at Concordia
2) I would have to move back with my parents (but since I would have a steady full-time job, that would likely last no more than another year)
3) I would have to abandon my wondrous housemate and force her to live with someone who is not me for second semester, which would be really sad for both of us
4) I would have to leave Montreal
I have yet to discuss this with my housemate and parents, but I'm pretty sure that I'm going to go for it. After all, my program is about finding a job. And this is a really great opportunity that I shouldn't pass up.
Updates as they come.
(Now playing: "Picadilly Palare", Morrissey...
for a change of pace
)