Fond But Not in Love
In honour of my first Valentine's Day as a Single Woman in a couple of years, I've decided to intentionally have the most pathetic day possible.
So far:
put on pretty make-up for no one but myself
moped

watched a tape of last night's Desperate Housewives while eating Ruffles
considered adopting a cat (even though I don't particularly like cats and am allergic)

Yet to come:
drinking alone
eating bon-bons, Peggy Bundy-style

dinner consisting of Kraft Dinner and sliced up hotdogs
binge drinking tequila with a group of lovelorn folk while playing board games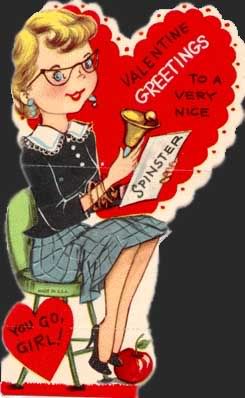 My valentines today (and the recipients of my misdirected spinsterly love) are Lukas and Indra for housing me in Kingston this April if I get the Whig-Standard internship. Rah rah!
(Now playing: "Oh Heart", Jill Barber)