Let's Get Physical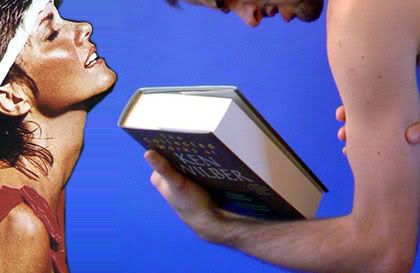 I've been going to the gym a lot lately ("a lot" for me = 3 times a week). I'm feeling pretty good. My legs and my arms have already gotten much stronger, and my overall sense of well-being has really improved. Right after a workout, my whole body is humming and happy and tells me, "Thank you for getting off your lazy ass and actually USING me! I really appreciate it. Here, have some endorphins!"
There's one problematic side effect to all of this physical activity, however. Immediately after a really good workout, I get rather...ermm....lusty.
I once heard that this has something to do with an increase in testosterone levels in women after being physically active. Chemically, we become more like men. And we want it.
Like, badly.
It hasn't even been that long since I last...got satisfaction. In fact, I suppose it was relatively recently (considering how chronically undersexed I usually am). But that lovely warm memory does very little to curb my desire to attack just about anything with stubble and an adam's apple, post-workout.
No freakin' wonder so many women meet their partners at the gym. It's you or the showerhead, baby.
(Now playing: "Moonshake", Can)