Je De-De-De-Danse Dans Ma Tete*
We interrupt this period of convalescence with a very special announcement:
This Saturday night, you should be at Zoi Zoi (pronounced zoyzoy).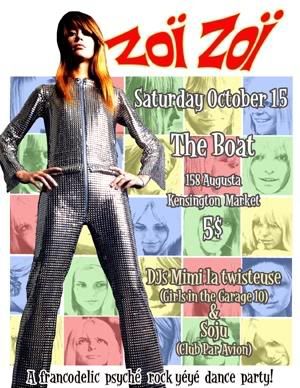 My favourite Montreal import, Mimi La Twisteuse (along with Club Par Avion's DJ Soju,) will be playing tons of awesome French pop from the '60s and beyond! It's going to be a superfantastique Francophone dance party! Oh la la! Tres excitant!
Of course....I'm on the mend. I can't be there. But that shouldn't stop you.
Allez-vous! Allez-vous! Help make it a huge success so it will return on a monthly basis and so I can get my francofreak on sometime in the future.
Bonne chance, Zoi Zoi!
(Now playing: "Tu Peux Pas Savoir", Ria Bartok)
*There will absolutely be no Celine. For serious.