Confessions on a Blog
I must confess.
As mentioned in the comments section in the post below, I am 100% in disco-love with the new Madonna record. It rules. It comes in at #11 on my year-end list and I was too scared to include it because that is the equivalent of painting a gigantic target on my indie credibility.
But you know what? I don't even care! Confessions On A Dancefloor is a fun and addictive record and it serves its purpose and I LOVE IT.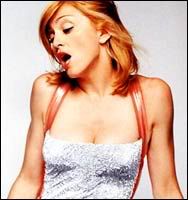 Pssst...Madonna is the queen of my secretdiscoheart.
(Happy birthday, Ben. I hope this is the 2nd best present you received.)
(Now playing: "Jump", Madonna)