You Can Pin And Mount Me Like A Butterfly
Behold! The Parkdale Pin-up!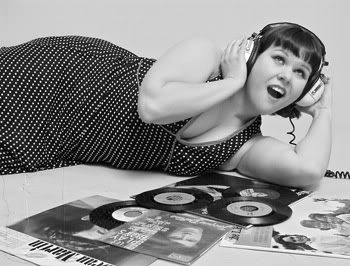 (c) 2006 Art Litwell
Photography by Art Litwell - visionary, scholar and man-about-town.
Dress by Kari Marshall at Wanna Frock?

Last summer, I answered an ad looking for volunteers to model as classic pin-up girls. They had over 60 applicants and selected a dozen girls to photograph. I was one of the dozen.
After several delays, some major surgery, a complicated recovery and various other factors, the shoot finally happened last month.
It was probably one of the best things I could have done for myself.
I've battled my weight all my life. But I'm realizing that there are a lot of gorgeous women in the world who are bigger than I am, so I shouldn't feel unattractive because of my weight. In allowing Art to capture my form for posterity, I am embracing my round belly, my tree-trunk thighs, my sturdy washerwoman arms, etc.
They're mine. I'm down with them. We're tight.
Anyway, I dig
my photos
. They're cheeky and fun and pretty hilarious.
Be sure to check out all of the
pin-ups in the gallery
(probably not safe for work). Some have big breasts. Some have small breasts. Some have big asses. Some have teeny asses. Some have tattoos. One has glasses. They are beautiful. They are
real
.
Also, I should mention that all of the photographs on the site are for sale. There's
merch
available like lip balm, coffee mugs, calendars and t-shirts.
YOU CAN WEAR MY BREASTS ACROSS YOUR OWN!
How fucking meta is that?
(Now playing: "Nancy Sin", The Beat Happening)