Les Filles C'est Fait Pour Boire L'Alcool
I present two esteemed graduates of the reputable and
highly
exclusive "Resident Friday Night DJ At
The Toucan
" program: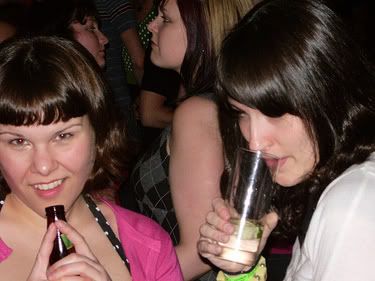 Photo snapped by Gloria Hong at Zoi Zoi!
You'll note that the alumnae (L-R - Papamarko, Lang) are in their natural habitat and are reluctant to take a break from drinking in order to pose for a photograph.
The Toucan taught them extremely well.
This, ladies and gentlemen, is applied knowledge in action.
(Now playing: "Kamera", Wilco)