We Got No Principals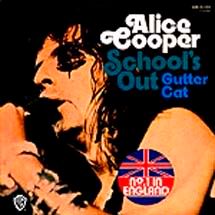 Do you like Alice Cooper?
Do you like beer?
Do you want to raise money for the Regent Park School of Music?
If you answered yes to any of the above questions, you should come out to the Boat (158 Augusta @ Dundas) this Thursday (April 20th) for Just School's Out. Eight local DJs will be playing Alice Cooper's classic anti-establishment anthem for SIX. SOLID. HOURS. You can stay for as long as you'd like and have the option of collecting pledges from friends, family and co-workers for every fifteen minute interval that you are able to endure the event. Cover is $5 without a pledge form. Much more information can be found
right here
.
Things get underway at 8PM sharp. See you then!
P.S. MuchNews will be there, so clean yourselves up a little, hey?
(Now playing: "Pretty Ballerina", Alice Cooper)