Requiem
This weekend in Kingston, I said goodbye to two landmark establishments that were beloved by me when I was an undergraduate student.
1) The Scherzo Pub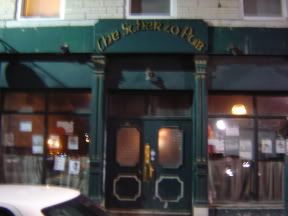 The Scherzo Pub (formerly known as The Wellington) is not
just
a pub. It is also an astonishingly intimate live music venue and one of my favourite places ever. There was a time when it was one of Kingston's best places to see a live show.
Some of the bands I have seen play the Scherzo: Tricky Woo, Luther Wright & The Wrongs, Tamara Williamson, The Orange Alabaster Mushroom, Bent Ivy (Jill Barber's old outfit), Reno's Hitmen, Kid Koala, Lederhosen Lucil, Veal, Bullfrog, Robin Black & The Intergalactic Rockstars, The Frenetics and many more.
The Scherzo will be closing its doors for good at the end of March and whatever takes its place will not be a venue for live music. Its loss is a blow to Kingston's vibrant music community. (Let's cross our fingers that the Grad Club survives the construction of the new Student Centre. That blow would be near-fatal.)
2) Andrea's Convenience/Andrea's Lunch Bar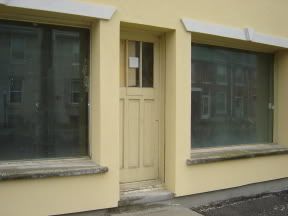 Andrea's was already closed and heavily made-over when I arrived, so I did not get to say a proper farewell. (But my very kind hosts can attest that I moaned "Aaandreaa's!" pitifully every time we passed by its new yellow stucco facade.)
Andrea's was a vaguely sketchy convenience store and greasy spoon rolled into one. They had the best damned egg salad sandwiches you have ever tasted and made thick, delicious milkshakes the old-fashioned way. The aging waitresses at Andrea's wore hairnets and aprons and called you "hon" and "sweetie" and had ill-placed lipstick. The joint was perpetually in a blue smoky haze, but that was part of its charm.
Andrea's was a relic from another era and I loved it. Its loss is a blow to Kingston's vibrant chainsmoking-unemployed-weirdos-with-mullets- who-have-nothing- better-to-do-than-nurse-a-coffee-all-day-long community.
Andrea's Lunch Bar, I honour your greasy memory.
(Now playing: "Days", The Kinks)
(Thanks to everyone who made my trip lovely. You know who you are.)