Jay & Erin: A Like Supreme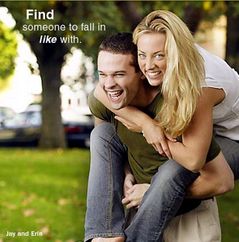 Scene 1
Jay: I like you, Erin.
Erin: I like you, Jay.
Jay: I don't think I'll ever like another woman as much as I like you. Will
you...marry me?
Erin: Ohhhhhh! Of course! Oh Jay, I like you SO much!
Jay: I'll like you forever, Erin.
Scene 2
Jay and Erin (to their precocious 8-year-old daughter): Now, honey. When a mummy and a daddy really like each other, the daddy plants a seed...
Scene 3
Erin toasting Jay on their 60th wedding anniversary: Of all the people I
could have fallen in like with, I'm glad I conceded to realistic
expectations and settled for you, Jay.
Jay: Ditto, baby. Ditto.
Fin
(Many thanks to
Matt
for sharing that stupid, stupid ad.)
Hallowe'en was pretty fun. I went to a bunch of parties, including a too-cool-for-Vice warehouse party in Outremont on Saturday night, where I saw some of the best costumes I have
ever
seen (Beetlejuice, Aladdin on a flying carpet, Borat, a dead congresswoman, and a guy who looked like a lightbulb but who insisted he was dressed as "The Future") and waited in line for the bathroom for over half an hour.
As for actual Hallowe'en, our street is apparently a hotbed for trick-or-treating. I estimate we had about 200 kids come to our door. It was crazy. Although Liz had the presence of mind to buy a whole shitload of candy ($30 worth), poor Roberto had to go on an emergency run to the Pharmaprix in the rain and buy another $33 worth.
Also, I can't wait to have babies. Kids are cute as hell. Anyone want to help me out?
(Now playing: "Ethel Tripped a Mean Gloss", The Orange Alabaster Mushroom)