Teenland (or: High School Confidential)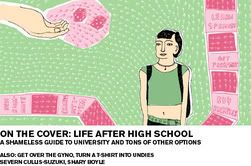 On Sunday,
Susan
and I attended the
Shameless
launch party at the Gladstone Hotel. It was a mixture of business and pleasure, since I'm writing a feature on the magazine for school. What impressed me most about the afternoon (aside from the publication itself, which is pretty great) was talking to members of their teenaged editorial collective. These girls are activists, musicians, students, artists, feminists and are all of seventeen years old. It was incredible how remarkably self-assured and intelligent they all were. They totally blew me away.
I think once we leave our teens, we only remember the awkwardness of that stage in our lives. And I was an
awkward
teenager. I was a bookworm and spent more lunches in the library reading plays than I did socializing in the cafeteria. I wore too-big-for-my-face glasses and sweatshirts with dolphins on them or Nirvana t-shirts over coloured tights. I often paired such ensembles with purple headbands or dangly peace sign earrings. I had greasy hair. I played the piano and trombone and guitar and trumpet and went to band camp and loved it. I hid lipstick in my locker and put it on at school so my parents and grandparents wouldn't find out. I didn't have a boyfriend. I fell in love with teachers almost exclusively and I took my 15-year-old friend Doug to senior prom because no one asked me to go (we had a really lovely time, incidentally).
When I think back to my teen years, that's what I remember. But I'd forgotten until I talked to these girls that I was also remarkable in my own right. I cared enough about politics at 13 to be enraged by the fact that I couldn't vote, even though I was more informed about the issues and candidates than most of the adults I knew. I became the editor of my high school newspaper at 15 and won a city-wide poetry contest that same year. By 18, I had written my first play.

It's so easy to forget one's accomplishments as a youth when they're eclipsed by vaguely painful memories of social awkwardness.


After giving this a bit of thought, I can honestly say now that I'm pretty proud of who I was as a teenager and I hope that one day I'll have a brainy, awkward, creative, opinionated, short-sighted and greasy-haired teenaged daughter of my own.

(Now playing: "She's a Star", James)