You Better (Not) Shop Around
Pathetic-funny story for the day:
I am recovering from surgery.
I have left the house exactly thrice in the past 2+ weeks.
I have been going really fucking stir-crazy.

In an attempt to curb my ennui (and to make me feel like a part of the outside world), I have been doing a little bit of online shopping.
Scratch that.
A great deal
of online shopping.
I've been ordering CDs, lip gloss, skirts, more CDs, sweaters (new boobs = new clothes!), yet more CDs, etc. I know it's kind of a dangerous habit, but it's been super fun. I have enjoyed this vicarious mall-trolling a lot.
Today, I got an email informing me that my VISA card has been frozen.
Apparently, the nice people at VISA noted the flurry of charges on my account and temporarily de-activated it due to "suspicious activity".
Of course, I called them right away.
VISA: Would it be all right with you if we went over some of the recent charges on your credit card together?
Sofi: Yes, that's fine.
VISA: $115 at Amazon?
Sofi: Yes.
VISA: $17.50 at Bombshell Bath?
Sofi: Sounds familiar, yeah.
VISA: $170 at Delia's?
Sofi: Yup.
VISA: Yet another $87 at Amazon?
Sofi: ...yes.
This went on for a while.
So that was a bit of an eye-opener. Fortunately, I'm back at work next week. That will leave me with much less time to be a crazed consumer.
Check out this sweater I will soon own! How adorable is this sweater?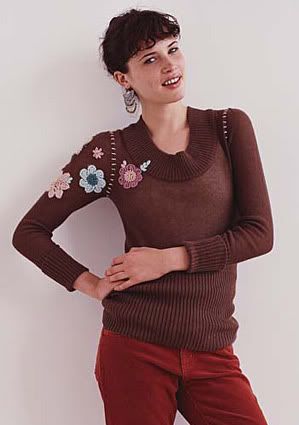 I regret nothing.
(Now playing: "Exile", The Pebbles)