Everyone's A Winner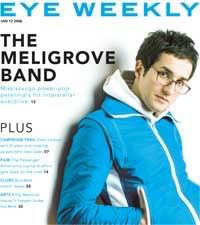 Today marks the release date of "Planets Conspire", the much-anticipated third release from
The Meligrove Band
. I've had the disc in my possession for a couple of months now and I assure you that it is a grower of the highest order. Pick it up.
But it's not as if these guys need
my help
in the buzz department. Their CD release party at the Mod Club this past weekend (which I regrettably had to miss due to illness) sold out.
Okay, let me say that again in case you missed it the first time:
The Meligrove Band sold out the Mod Club
!! The gigantic venue was packed to capacity and they apparently had to turn droves of people away at the door. Not even Teenage Fanclub did that.
Something is happening. Something big. And if anyone deserves it, it's these guys. The Meligrove Band are not a flavour of the month. They have talent and passion and drive. Plus, they're seriously funny fuckers and are easily the nicest bunch of boys you could ever hope to meet.
Way back in 2001, I invited The Meligroves to play GW-Palooza (a show I booked, which was backed financially by
Golden Words
, the campus humour newspaper I wrote for at the time.) I was pretty naive when it came to booking shows and initially offered them several hundred dollars more than we could have actually afforded. Mike Small wouldn't even hear of it. The band drove all the way to Kingston, put on a damn fine show at Clark Hall Pub, and only accepted gas money and a pitcher or two of beer.
I still love them for that.
The phrase "Nice guys finish last" does not apply here.
In other music and Mod Club-related news,
Metric
shot a video for "Poster of a Girl" yesterday. According to the band's website, they were looking for extras who "have the fresh style and look of Paris in the 1960s". I would have liked to have thrown my beret and cigarette holder into the ring, but alas. Work gets in the way of everything fun and monochromatic.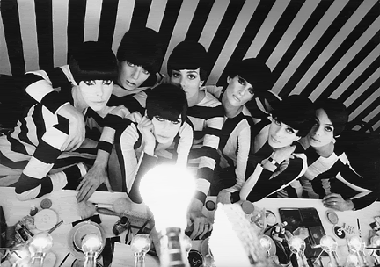 (Now playing: "Ages And Stages", The Meligrove Band)