My Ears Are Ringing And My Heart Is Broke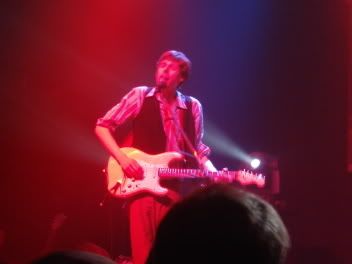 Hilary: Whoa. When did The Joel Plaskett Emergency become the Trews?
Sofi: Mraaarrgghhh! You wash your mouth out with
soap
!
But she was right.
Thursday night's show at the Phoenix was a loud, rollicking, steaming hot rock show complete with fist pumping and complex lighting.
(You know) I really hated it.
Please don't get me wrong. I adore Joel Plaskett and always will. He is talented, charming, funny and a joy to watch.
But not when my feet are sticking to a tequila-damp floor. And not when I'm getting stepped on or dry humped (seriously) by sweaty jocks or tube-topped clubgirls with dangly earrings who reek of Light Blue. And
definitely
not when I'm being shoved aside and elbowed in the jaw by some Anthony Kiedis-esque douche who doesn't care who gets injured in his quest to jump up onstage and shake Joel's hand.
Joel Plaskett shows have gotten way too big and intense for me to handle. I think I'm done. But I take comfort in the fact that I'll always have
fond
memories
to keep me
warm
.
(Now playing: something by Venus Hum)