The Old Guy!
After the Eels show yesterday, I dashed off to surprise my lovely friend Andrew at the vaguely sketchy West End bar where he hosts karaoke on Saturday nights.
When I had finished wowing the crowd with the requisite Blondie tune, an older gentleman let me know that he had enjoyed my performance and that I had "a lovely voice".
Said gentleman was none other than Mr. Harry Brown.
For most of you, that name means nothing. But for those of you who watched Speaker's Corner on City TV religiously during the "Devil's Advocates" days, that name means
everything
.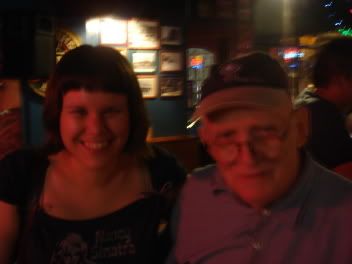 (Now playing: "Old Man Going", The Pretty Things)