Great Big Party Of One (Hundred)
After three solid weeks of being a shut-in, I finally emerged in order to celebrate (and partially DJ) the combined birthday party of two great friends at The Boat.
Party of the century!
Some highlights:
Seeing lots of wonderful people who I haven't seen in a while.
Pitting The Meligrove Band against The Meligrove Band! ("I think The Meligrove Band won," Darcy wisely observed afterwards. "Oh, no contest," I replied.)

Mr. Peter Elkas rocking air guitar while I played "Stomp Your British Knights Down".

Observing the birthday girl and birthday boy being all happy and smiley and dancey throughout the evening. Feeling immense love for the both of them. Aww.
Using a very supportive friend as my Human Boobshield whenever I had to push through the crowd to use the washroom.
Chris Murphy of Sloan joining Pete for a rendition of "Roll Over Beethoven" (see hilarious photographic evidence, below). The jaded indie kid in me pretended to be unimpressed...but my inner 15-year-old won over.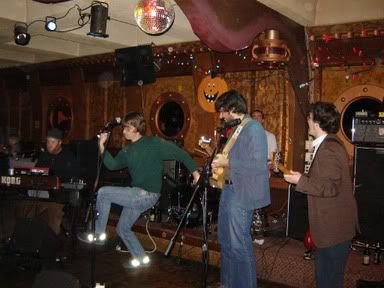 Happy 25th birthdays,
Lindsay
and
Josh
!
(Now playing: "The Party Rages On", Zumpano)