My Breast Intentions
I sometimes name things to make them less scary/intimidating.
When my friends Jenny, Meghann, Sera and Kelly all got together and bought me My First Vibrator (a Rabbit Pearl, a la Sex and the City) several years ago, I was scared of it. It sat around for a few days before I gathered the courage to give it a go. But first...I named it. I named it because, even though it was pink and squishy and hilarious-looking, it freaked me out a little. So I gave it the least threatening name I could possibly think of: Little Bunny Foo Foo.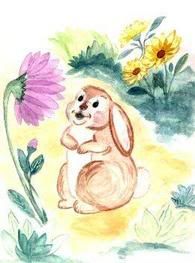 With the help of some vanilla candles and David Bowie records, LBFF and I became fast friends!
Which brings me to another topic that is also intensely personal and should not really be blogged about. That being my recently-reduced breasts. They will one day be lovely. Currently, they are angry with me. They itch. They ache. They ooze. They bleed. They are still a mite swollen. I hate looking at them/handling them at this point.
But look at them I must. Handle them I must.
So, not unlike that trashy woman in the film
Uncle Buck
, I have named my new-and-improved breasts.
The left one, I call Itchy McWonkynip.
The right one, Oozy "The Destroyer" Fondlington.
Together, they are known as The Frankenboobs.
We will be friends.
Someday.
Soon.
I hope.
(Now playing: "Scarlet Lady", Honeybus)